New four-year study shows 100% orange juice not associated with weight gain in older children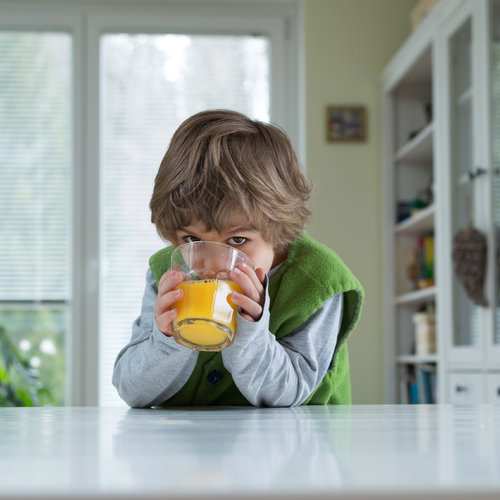 2021-03-03
New research shows no adverse association between change in Body Mass Index (BMI) and consumption of 100% orange juice among older children adding to a growing list of studies suggesting children and teens can benefit from regularly drinking 100% OJ
The analysis by researchers at the University of Connecticut and Harvard's School of Public Health and Medical School included children ages 9 to 16 who were followed from 2004 through 2008.1 The analysis showed there was a clear lack of a connection between orange juice and increased BMI in this age group. One hundred percent orange juice contributed, on average, between 40 to 50 calories to the daily diet while milk contributed almost four times that amount, from 150 to 180 calories. This amount of orange juice represents under 4 ounces per day on average, which falls well below the recommendations of the American Academy of Pediatrics, which suggests limits for 100% fruit juice consumption of 8 oz. daily for children over 7. The 2020-2025 Dietary Guidelines for Americans counts 100% fruit juice as a fruit serving and recommends that primary beverages either be calorie free – especially water – or contribute beneficial nutrients, such as fat-free and low-fat milk and 100% fruit juice.2
"Children in this age group fail to consume adequate amounts of fruit and certain micronutrients such as vitamin C and potassium," said Dr. Rosa Walsh, Director of Scientific Research at the Florida Department of Citrus. "Although the preferred choice is whole fruit, this research supports that moderate consumption of 100% orange juice can be a beneficial addition to the diet to help meet fruit intake recommendations and is unlikely to contribute to childhood obesity."
This longitudinal study, funded by an unrestricted grant by the Florida Department of Citrus, adds to the growing body of scientific research supporting the role of 100% orange juice in adults' and children's diets.
Every glass of 100% orange juice supports overall health and can help adults and children meet intake recommendations for key nutrients they may be lacking in their diets. An 8-oz. serving size contains vital vitamins and antioxidants, including vitamin C, potassium, folate, hesperidin and more, with no added sugar. From helping improve diet quality to providing key nutrients that can help support a healthy immune system, 100% orange juice offers a number of health benefits and can also easily be incorporated into simple, great-tasting recipes.
About the Florida Department of Citrus
The Florida Department of Citrus is an executive agency of Florida government charged with the marketing, research and regulation of the Florida citrus industry.  Its activities are funded by a tax paid by growers on each box of citrus that moves through commercial channels.  The industry employs more than 37,000 people, provides an annual economic impact of $6.5 billion to the state, and contributes hundreds of millions of dollars in tax revenues that help support Florida's schools, roads and health care services. For more information about the Florida Department of Citrus, please visit FloridaCitrus.org.
---