AIJN visit to the DöhlerGroup factory in Darmstadt, Germany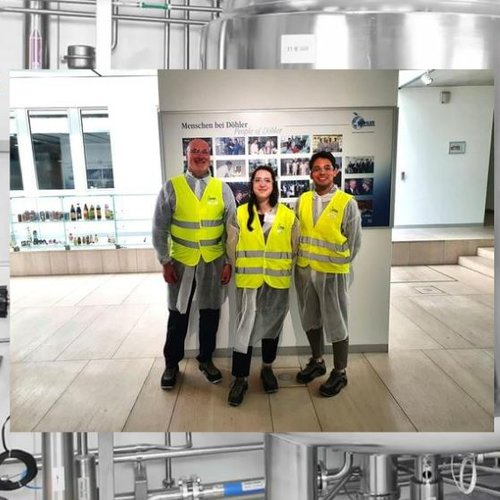 2022-07-12
The AIJN Team visited our Observer Member DöhlerGroup's premises in Darmstadt, Germany for an in-depth discussion on the intersections of fruit processing, sustainability and EU policies.
Döhler is a global producer, marketer and provider of technology-driven natural ingredients, ingredient systems and integrated solutions for the food and beverage industry. Döhler's integrated approach and the broad product portfolio are the optimal basis for innovative and safe food & beverage applications. The product portfolio of natural ingredients ranges from natural flavours, natural colours, health ingredients, pulses & cereal ingredients, dairy & plant-based ingredients, fermented ingredients, dry fruit & vegetable ingredients, fruit & vegetable ingredients to ingredient systems.
Headquartered in Darmstadt, Germany, Döhler is active in over 130 countries and has more than 40 production sites, as well as sales offices and application centres on every continent. More than 8,000 dedicated employees provide our customers with fully integrated food & beverage solutions from concept to realisation.
The fruit juice industry needs to be supported by comprehensive EU regulatory frameworks and policies to thrive. AIJN is a facilitator of industry-policymaker relations, therefore our active involvement continues to be key when framing evidence-based, effective EU law that impacts our industry's supply chains.
If you're interested to know more about the AIJN Observer Members' network, reach out to Marton Gellert at marton.gellert@aijn.eu.