Juice Summit 2022 – a great success!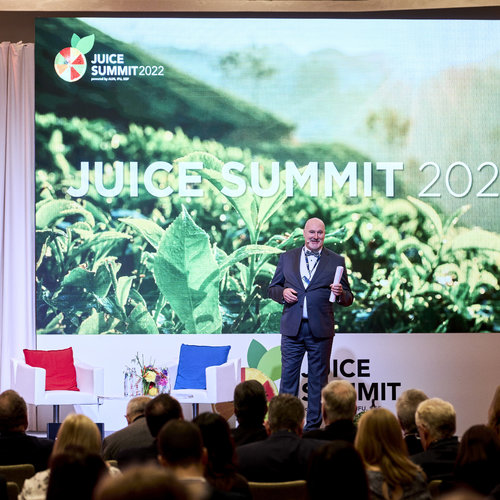 2022-11-28
"It's amazing, all our clients are here!"
- feedback from a satisfied participant when asked to reflect on the first post-pandemic Juice Summit. AIJN, SGF and IFU partnered once again to organise the 9th annual conference in Antwerp, Belgium on 12-13 October 2022. This year's conference was even more special than ever!
The Juice Summit provided a global forum for sharing knowledge and offers a unique networking opportunity for fruit juice industry players to shape the sector's future. The annual conference has become an institution since its first edition in 2013. After years of pandemic-imposed challenges, last month the Juice Summit opened its door to more than 400 participants from across the globe, to create a space where companies can foster new connections and strengthen old ones. Many participants have been 'virtually' working together for some time and the conference provided the perfect opportunity to meet in person, for the very first time. Worldwide participation is integral to the Summit's essence and, in 2022, the event hosted juice industry leaders and professionals from 5 continents and more than 30 countries.
There was an even greater emphasis on networking possibilities throughout the four insightful plenary sessions at this year's conference. The industry has missed these magical face-to-face interactions and networking opportunities that make the world of international conferences so special, and the Juice Summit certainly exceeded all expectations in this manner.
Wouter Lox, AIJN's Secretary-General was also delighted by the outcome:
"I am proud to say that the Juice Summit has grown to be the fruit juice industry's most prestigious global conference over the years; it is the melting pot of fruit juice industry representatives, regulators, association executives, NGOs and numerous experts from other industries who all come together to find meaningful ways to innovate our sector. This year we finally met face-to-face again and we, the organisers, ensured that participants have plenty of opportunities to extend their professional networks during the event. Particularly now, when there is so much happening in the juice world, events like the Juice Summit are even more important to keep informed and to maintain - and advance - the relationships that we built."
The entire fruit juice supply chain was represented at the event, from agriculture to retail and beyond. Not only amongst the participants, but the Summit's speakers reflected this diversity too. After kicking-off the long-awaited conference on 12th October with a welcome networking evening, the plenary discussions all took place the following day on Thursday 13th October.
Jane Foley, Senior FX Strategist and Rabobank's Head of FX Strategy opened the programme with a keynote speech, followed by five insightful thematic sessions over the course of the day. The presentations and roundtables addressed some of the most pressing talking points of the fruit juice industry including, nutrition & health, supply & demand, market trends, technological innovations and working together as a sector towards climate neutrality. Other speakers included Howard Telford, Head of Soft Drinks Research at Euromonitor International, Tatiana Campos, Institutional Relations Director at CitrusBR, Tsahi Berezovsky, CEO of Prodalim, Roman Zuzok, Vice President Sales & Corporate Development at TB Fruit, Jan Meiling, Managing Director at StartLife, Christian Holzleitner, Head of Unit at the European Commission (DG CLIMA), Gilles Tisserand, Vice President Climate & Biodiversity at Tetra Pak and Martin Sonntag, Head of Global BU Cluster Plant Based Nutrition at Döhler Group.
For the full list of speakers and further information on the presentations visit www.juicesummit.org.
Shai Joshua Lawit, Pairwise's Crop Science Lead was also among the speakers, and he echoed participants' opinion of the conference's vibrant atmosphere: "It was a true pleasure discussing precision breeding and how Pairwise is using CRISPR-CAS gene editing to solve global agricultural problems at Juice Summit. The Summit has superb hosts and an engaging, welcoming audience. What a great experience!"
The conference closed with the traditionally well-known gala dinner in the Hilton Hotel Old Town.
See you on 4-5 October 2023!
Overall, the first physical Juice Summit in 3 years was a great success with endless networking possibilities, high quality presentations and priceless, joyful moments that participants were able to share face-to-face once again with their peers. Participants, and the organisers are already looking forward to the next edition, which will be held in Antwerp, Belgium on 4-5 October 2023. Save the date!
Follow the Juice Summit LinkedIn page for updates or reach out to Marton Gellert, AIJN's Communications Manager at marton.gellert@aijn.eu if you have any questions about next year's event.